About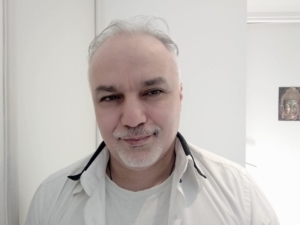 Fahousi, an energy alchemist for over 20 years, today I am pleased to pass on to you the power of your self-liberation.
Born in France in 1968, I practiced martial arts at a very young age. Their practice, including precisely Viet vo dao and kung fu Wushu, allowed me to approach the Asian philosophy through which I was able to follow the Way of Tao (The Way), which is balance and understanding of the 5 elements present in all life situations.
My ancestral oriental roots of healers and my French education have allowed me to combine the cultural and scientific riches of the East and the West. An infinite source of wisdom emerges from it.
I practice Tui-Na, visceral massage, cranial massage, intuitive energy psychotherapy, biological decoding, body language, and magnetism. So many complementary techniques which revealed a very fine intuitive capacity to me.
Ce développement personnel au fil du temps m'a amené à fabriquer des supports énergétiques pour accompagner la personne dans son retour à l'harmonie de l'Être. Ces aides sont matérialisées dans des planches énergétiques, harmonisateurs RESON'ESSENS et le livre quantique actif en énergie contenant toute la puissance d'ondes de formes vertueuses associés à des intentions d'amour. Ils vous accompagnent et s'adaptent « intelligemment » à votre niveau vibratoire pour vous amener sereinement à la pleine conscience.
Today I feel called to share this sum of knowledge in order to make you benefit from it, and return you to your initial potential by gaining autonomy. For this, I offer lessons based on ancestral practices that will put you on a path of unity and peace. You will be able to notice movements of immediate and permanent transformations in you.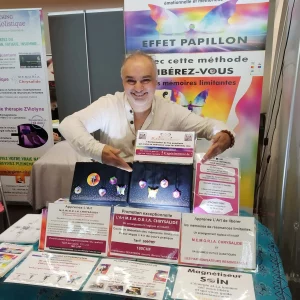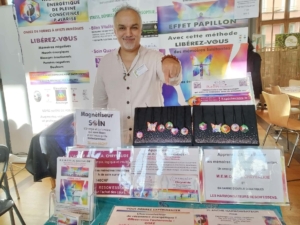 Navigate this site by letting yourself be inspired by what it emanates, until perhaps lead you to answer a deep call. It is time to break out of this circle of dependence to find your true freedom and lightness and regain coherence in your state of being, so that pure consciousness can settle down.
Fahousi, designer of the method M.E.M.O.R.I.A. Chrysalide ® and transmutation and energy resonance harmonizers RESON'ESSENS.